This is my blog for Finished Projects. To read about the stitching process and join in with the Blog Hops I organise come over to Serendipitous Stitching (link in side bar). In the mean time I invite you to "Come Happy Dance with me"
Saturday, 1 December 2001
Dress stitched in hand dyed varigated silk
Christmas Angels found here
Posted by

Jo who can't think of a clever nickname
at 22:20
No comments:

Thursday, 1 November 2001
No Picture
Stitched for friends' first daughter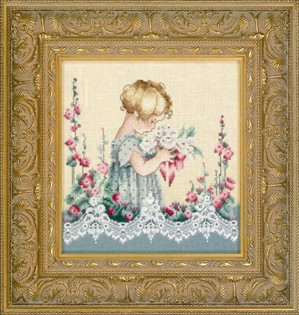 .
Picture from
TIAG site
Posted by

Jo who can't think of a clever nickname
at 22:31
No comments:

Monday, 1 January 2001
I stitched this in 2000 to celebrate the new Millennium. The outside is all as charted but I changed the centrepiece into a family name tree of my own design. I also changed alot of the names around the centre. They were meant to be famous people who have made a great contribution to life in the last millennium. So why were there so few women? My Mum and I put our heads together and came up with a much better list:
Constable (John)

- painter born in Suffolk and best known for his painting of the area
Cavell (Edith)

- nurse born in Norfolk, executed during WWI for saving many lives, both Allied and German.
Hillary (Sir Edmund)

- mountaineer/explorer, first person to reach the summit of Mt Everest, my "House" at Primary School
Earhart (Amelia)

- aviation pioneer, first woman to fly solo across the Atlantic Ocean
Elgar (Edward)

- composer, best known for Pomp and Circumstance
Sharman (Helen)

- first Briton in Space (Interview here)
Drake (Francis)

- English sea captain in the time of Elizabeth I, one of the "Houses" at my Primary School
Fry (Elizabeth)

- Quaker and prison reformer
Dickens (Charles)

- Victorian author and social critic
Curie (Marie)

- physicist and chemist, Nobel Prize Winner, see also the Cancer Care Charity named for her.
Chanel (Gabrielle "Coco")

- fashion designer
Pankhurst (Emmeline)

- leader of the Suffragette movement which won the right for women to vote
Jenner (Edward)

- physician and pioneer of vaccination
Bronte (Anne, Emily and Charlotte)

- 19th century authors
Scott (Captain Robert)

- Royal Navy officer and explorer, known as Scott of the Antarctic, one of the "Houses" at my Primary School.
The fourth "House" at Primary School was Columbus (Christopher) and he was already featured in the main squares so I didn't add him to the middle design.
Posted by

Jo who can't think of a clever nickname
at 00:25
No comments: